Click image below for full size: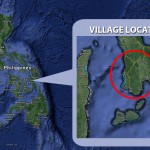 I just returned from Leyte after a week of traveling, inspecting, and giving out relief items to people who experienced the devastation of typhoon Yolanda last month. The death toll continues to rise as more bodies are found and may even reach the 10,000 that some initially reported. The typhoon crossed over the island of Leyte leaving a path of destruction more than two hundred miles wide. As a Cebu pastor and I drove towards the village of Bugabuga and later to the larger city or Ormoc we saw multitudes of houses and commercial buildings partially or totally destroyed. In the more rural areas there were acres and acres of ruined coconut, banana, and abaca trees. As we passed along the roads, people came out and asked for help. There were several signs posted near the highway saying, "Help" or "Help us, we need food!"
There are 128 households in the village of Bugabuga. The village is situated in a fairly remote part of the island in the midst of high hills (for us Alaskans) or mountains as the people call them. The two-mile road from the main highway to the village is little more than a one lane rocky trail.
The typhoon's amazingly strong winds swept down into their valley and completely destroyed about 60% of the homes and damaged most of the rest. The church building was completely leveled leaving only the starter concrete blocks on two walls and the concrete floor. As in other places, the coconut trees and other crops were destroyed.
This time while we were in Bugabuga, we gave out packages of food to every household as well as gave extra money to all of the widows. We talked with the Barangay captain (basically a village chief) and asked him what we could do to best help the people. Of course, the first basic need is food to supplement what they can gather from existing crops and from the help of others. The longer-term need is a better water supply. After much discussion, we decided to install a reservoir on a hill and pipe the water to another reservoir at the village. This will provide a better source of water more accessible to all of the people and will give them some long-term help.
For the immediate time, we will continue to send people and supplies to the village as God provides. Two more of our students will leave this week during their Christmas break to assist in construction. Lorrie and I are scheduled to return the 1st or 2nd of January to help with another larger food distribution coupled with children's ministry.
The needs are overwhelming in so many villages and cities in this area. I talked with the Manpower coordinator for the city of Ormoc and later with a UN representative from Burma. They both said the greatest need they are seeing now is still food, then building supplies, and finally aid in developing means of longer-term support until their crops can be restored. They encouraged me in our decision to work with one village and help them as much as we could.
It is important to work with the nationals, but also to make sure what is supplied is needed and given to the people it is intended for. I was told that one 1st World country, not America, sent large care packages with toilet paper and large sized shampoo and other things. Most of the rural people do not use toilet paper and large sized items are hard for them to store. Unfortunately, because of corruption in developing nations, supplies often are not given to the most needy or held to help get political votes. As one Christian business owner told me, "that's a given." We feel by keeping primarily with one village we can better manage the things that are entrusted to us.
You have been generous and the village of Bugabuga is greatful!
Thank you for modeling God's heart of giving during this Christmas season.
Nels and Lorrie