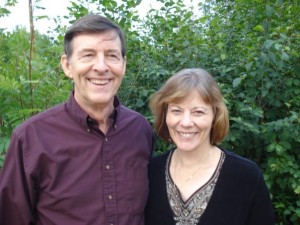 Nels and Lorrie
Nels and Lorrie Church are the parents of seven grown children and five grandchildren. They pastored for many years in Fairbanks, Alaska and Bend, Oregon. In 1996 they started REAP International Inc. At present they live over half of the year in the Philippines, but maintain their home base in Fairbanks, Alaska. They also spend much of their time travelling for speaking engagements in countries such as Russia, Costa Rica, Taiwan, Mexico and Indonesia.
"It is our desire to encourage, strengthen, and impart vision to the church throughout the world." 
REAP
In the mid 1980's, Nels and Lorrie Church and their family were sent out from their church in Fairbanks, Alaska to Bend, Oregon to pioneer a new church. While there, their burden for other nations increased and God gave them John 4:34-35 and the name REAP.
After seven years in Oregon, the Church family took a seven month sabbatical to the Philippines. Upon returning to the States, their desire to help developing nations only increased.
In 1996, after much prayer, Nels and Lorrie resigned from their church formed REAP International with John 4:34-38 as their theme verse. They moved their family to the Philippines where they lived for about four years to increase their knowledge of the culture and be directly involved in fulfilling their goals.
John 4:34-38 (ESV) 34 Jesus said to them, "My food is to do the will of him who sent me and to accomplish his work. 35 Do you not say, 'There are yet four months, then comes the harvest'? Look, I tell you, lift up your eyes, and see that the fields are white for harvest. 36 Already the one who reaps is receiving wages and gathering fruit for eternal life, so that sower and reaper may rejoice together. 37 For here the saying holds true, 'One sows and another reaps.' 38 I sent you to reap that for which you did not labor. Others have labored, and you have entered into their labor."
Nels and Lorrie now split their time between their home in the Philippines and their home in Fairbanks, Alaska, as well as spending time being international speakers to other third-world countries.