Virac Philippines 2015, Feb 19 update
Background:
This adventure began about a year ago at the request of Yvonne Temple of Fairbanks who is a native Filipino. She had a burden that her people would have access to safe drinking water, especially during emergencies such as devastating typhoons. She and her husband Kevin work with Philippine missionaries Nels and Lorrie Church, also from Fairbanks; they visited us in Delta, looked at our little hand-pump models, prayed together, and plans were made. Funding for parts arrived from generous members of the Fairbanks Host Lions Club, Kevin brought shipping boxes to Delta, parts sufficient to assemble 12 water plants were packed and about 4 months later, they arrived in Virac Philippines. That's where Nels and Lorrie along with local pastors, have a training facility for pastors and Bible school for children. I gathered up some water test instruments and a few warm-weather clothes and headed west; my first trip to Asia.
Feb 15 – 22 Manila- Virac. Catanduanes, Philippines
Feb 15-16: Met by Nels at the Manila airport and waited while munching on a juicy Burger King, for Kevin and Yvonne who flew in from their Filipino home in Cebu. Overnighted at the "guest house" operated by another mission group then up at 3 am to head back to the Manila airport and flight to Virac which got us there by about 8 am. I was met by Pastor Domain with a motor bike-sidecar arrangement popular here and it was so fun blasting through the busy streets in it!
The school was built by Nels with local plus help from Fairbanks in 2000 on the ocean on 3 beautiful acres.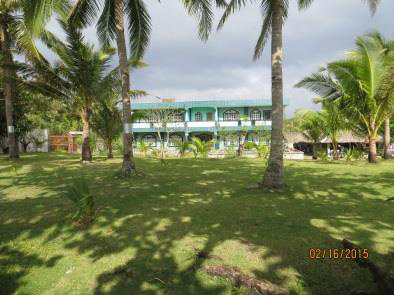 Kevin and I and lots of willing helpers set some tables up and opened the boxes of parts we packed together in Delta last October; which had recently safely arrived in good condition. I unpacked my water test instruments, and called for the water samples I had asked each attendee to bring from their various villages. The samples were great – bottled and labeled well- except one that had come from a long way by ferry and bus, happened to get drank on the trip. I was given a tour of the water plant I had sent over a year ago- Yvonne figured it served drinking water for over 9000 man-days during that time- and consumed 3 filter cartridges in that time.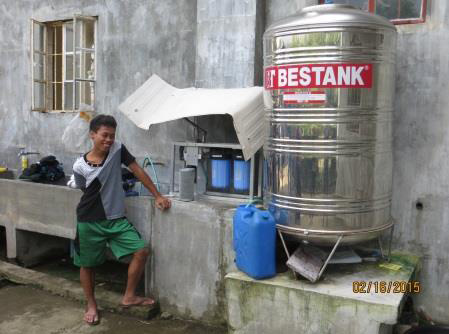 I learned that before the water plant was there a year ago the city water was commonly causing dysentery and since it was installed they haven't had any more. Then I had a refreshing long drink from it, which brought us to lunch time after which we had a short orientation and prayer and went to work.
We tested various parameters of the samples and I had many willing helpers- all future lab assistants.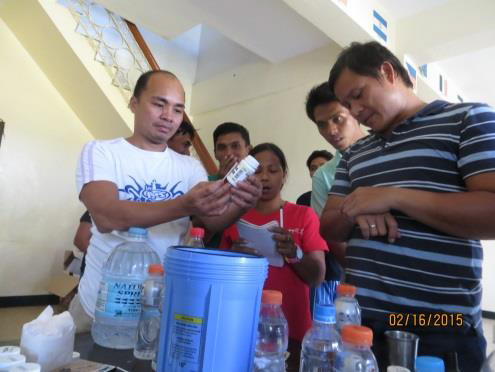 One set of two samples came from an area where the water is brackish and I had to tell them the little hand pump-filter won't take salt out. I recommended they catch rain water and will show them how to do that. All the others looked like the filter will make safe water. We were all pretty tired by 3:30 so we knocked off early, returned for a lovely dinner of eggplant (Carol's going to laugh hilariously when she reads that) and fish at 6. Later on I received a great massage from one of the pastors and relaxed for a good night's rest.
Feb 16 We built 12 water plants in one day! Twelve people who came to take a water plant back to their village and four additional students, amazed me with their enthusiasm and eagerness to learn. They beat the frames together, drilled, piped, glued, threaded, bolted, lined up, riveted, formed teams, built subassemblies (you'd think they had all worked in big factories) and glowed when the final product came together!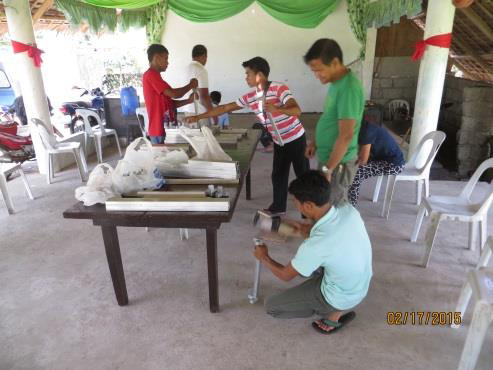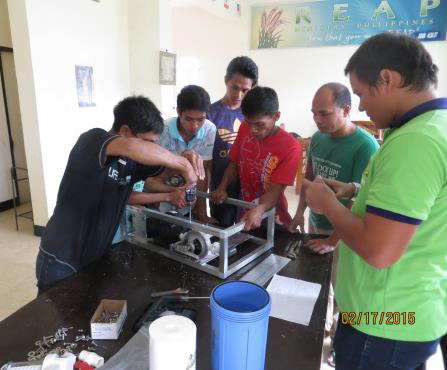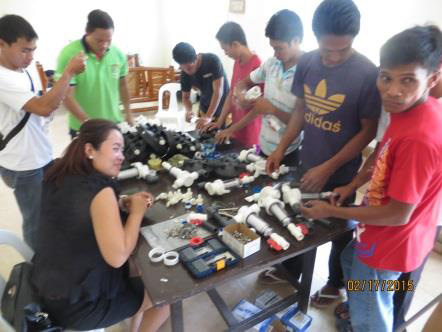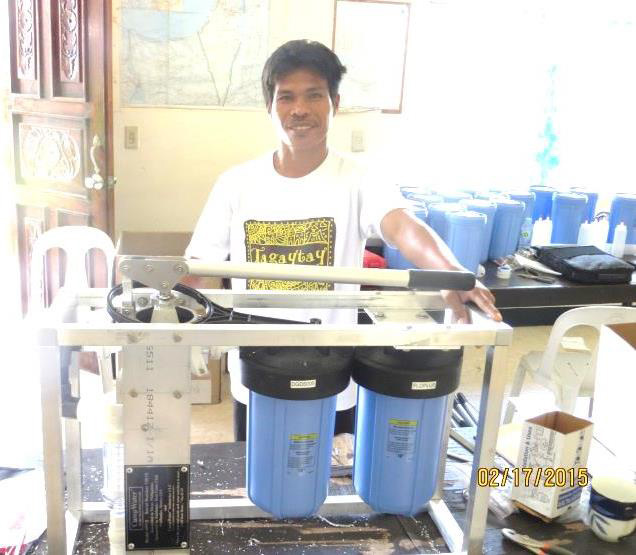 Feb 17 Operations, Maintenance and Record-Keeping Training: I gave out manuals, Pastor Homer interpreted for me and we went over what we consider one of the most important aspects of the whole exercise: Sustainability. Run it, what can go wrong, how to fix it, how, where, and cost of spare parts, selling water, meeting regulations, limitations of the water plants, how to get help if needed, and making bad water safe to drink. Then Yvonne and Homer gave out forms and explained why we need quarterly reports to cover the next year: to give us accountability for the donors and future projects.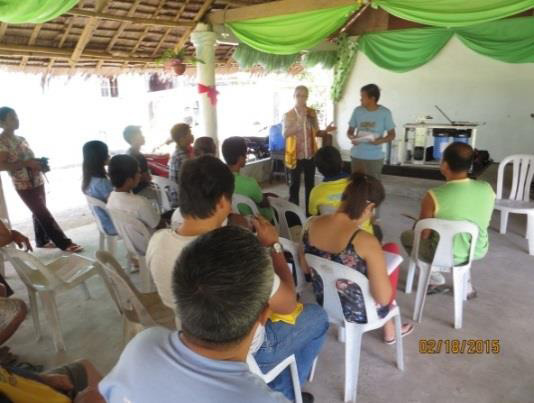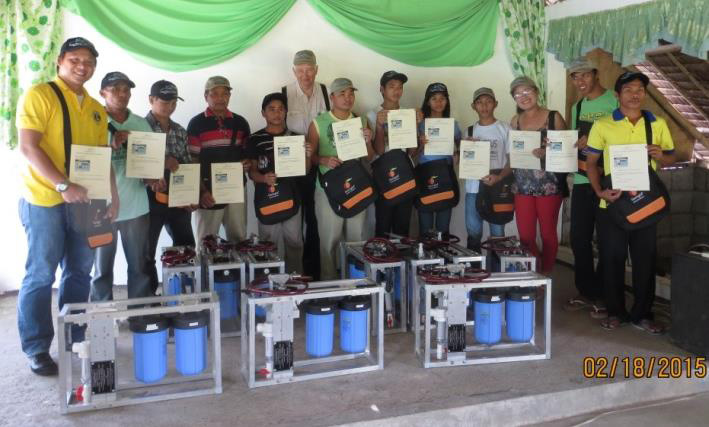 Then pack up and head out to the remote villages everyone came from – with a little box full of hope for a better life.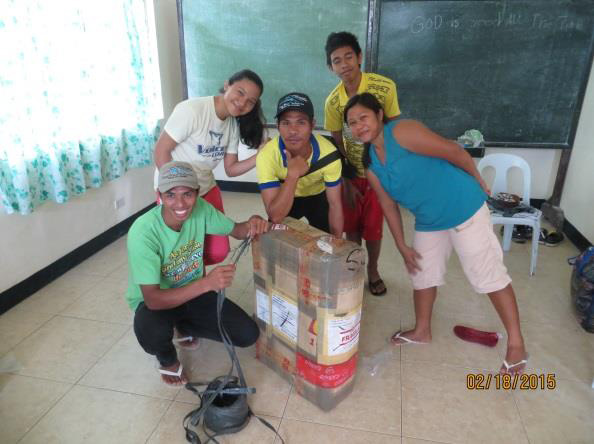 And I went for a good long swim in the Pacific, watched some fisherman come in with a good-sized Barracuda, and thought about all of my friends back home trying to stay warm.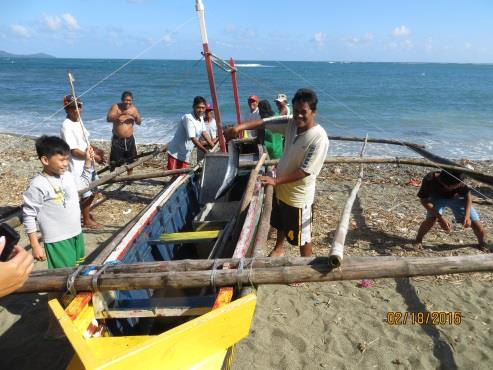 Feb 18 Catanaduanes Tour of water plants at work. Three of the plants that we built were sent to churches or pastors in villages on the Island of Catanaduanes where Virac is at. The furthest, Bagamanoc, is 40 miles north and over a hill a little higher than Tenderfoot back home, on a narrow winding – but paved- road. Nels loaded up Kevin, Jenette from Leyte and Ryan from Cebu, Yvonne, Kevin and me after breakfast and we headed north in his Ford SUV. Past Jeepneys, Trykes (motor bikes with an ingenious Filipino sidecar), blue tarps with drying rice right on the road and hordes of children, dogs, cats, and construction workers filling huge holes in the roadbed with hand-made cement. I was amazed at Nels' skill in dodging all that.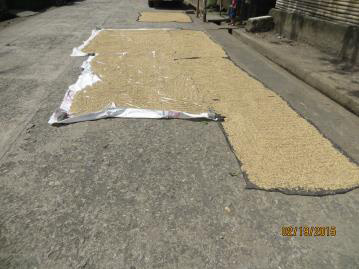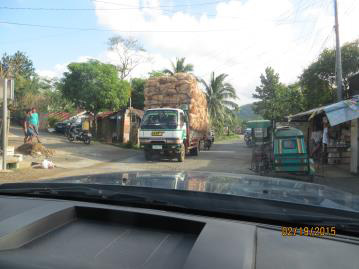 At Bagomanoc we arrived at the same time as Dominado Ortiz (I couldn't pronounced that so called him "Domino" to giggles and laughter) and his wife on a motorcycle from Virac, at "Christ the Life-Builder" Church. There we met Pastor Deolito Bernal, tested his water plant, showed him how to add chlorine due to reported hepatitis A in the area, and pronounced the results: A-OK. The local health aide came by and said dysentery was common from the city water and said if the water from the plant would pass a bacteria test it would be legal to sell it; a possible source of income for him.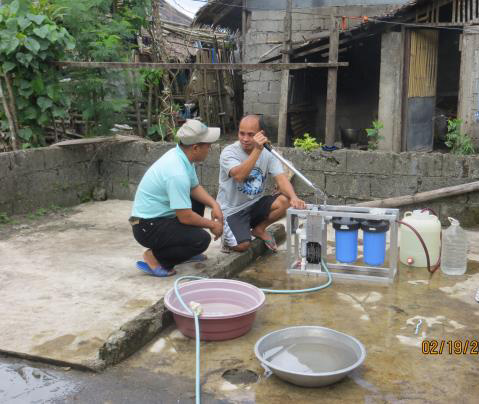 Next we went south to Arnulto Olfindo at Roxas and found him drawing water from a mountain stream and purifying water in his home.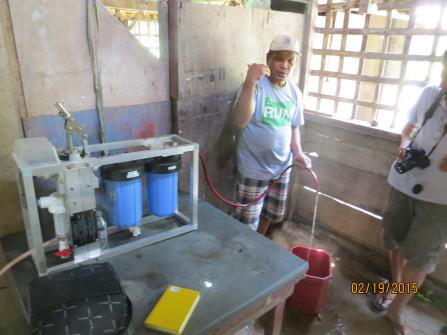 Again, it tested OK.
Our third stop was at Nursery, where we met Allan Tindagan and watched him purifying water with his new plant. Again, it tested good. Allan has about 18 acres on a mountainside where he harvests Abaca which they make paper, crafts and rope from.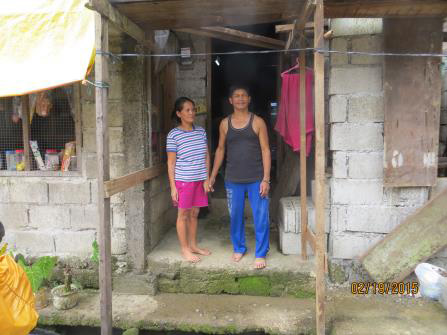 I wished time would have allowed me to go to every village but it would have taken several weeks of ferry, bus, and motorcycle rides to go everywhere these plants went. I did hear that one of the places had an occasional clay problem in the water after heavy rains and I shared the story of 8-year-old John a Masai boy who taught me in Kenya how to remove clay using cement. Everyone has my contact information; while being there would have been the best, they all communicate well and as long as I'm around I'll try to answer their questions.
For all of your prayers and support, please accept my sincere thanks. Now I'm off to further adventures in Malaysia.
God Bless you.
Jon