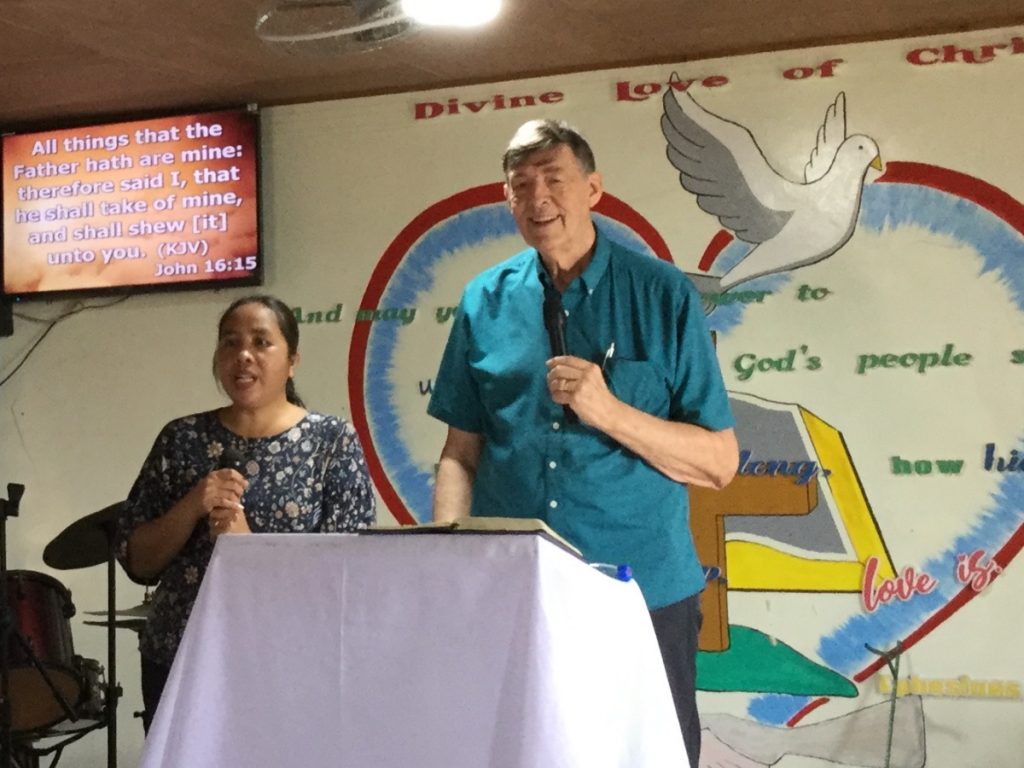 April/May 2020
Dear friends,
Psalms 139 is a favorite passage for me. In essence David said, You formed me and You fashioned all my days before I was even born. It occurred to me recently that I could say of each day, "Lord, You made this day for me!" That's an amazing thought – today was formed with me in mind. If that is the case, then in spite of all the things that are happening in the world, God is not worried! He formed this day specifically for you and me.
He says in verse 23 NKJV, "search me, O God, and know my heart; try me and know my anxieties…." Are you anxious today? Are you wondering where God is in the midst of this virus that has brought much of the world to a screeching halt? God not only knows about it, He knew right where you are at yesterday, today, and in the future. We need not worry as long as we keep our trust in Him!
Lorrie and I just returned from the Philippines. As in normal years we were teaching in the Bible School, meeting with friends and co-workers and preaching in the churches. We were planning for a visiting youth team from Iceland led by Pastor Shane from Alaska and for a pastor's conference. Then life changed! But before I go on, let me update you on the ministry at the facility.
Pastor Joey is our livelihood manager. He and his wife, Connie, are doing an excellent job in developing the program. Connie has been studying agriculture at the local university and Joey has completed a government course on agriculture. They are using compost to improve the soil and already experiencing great results with their vegetables. In addition to vegetables, the fishpond is having an abundance of fish and even some large crabs. The chickens are multiplying with the help of our new incubator and are providing meat and eggs.
We began a maintenance building this month. When it is completed, it will provide much needed storage space and a place for some practical skill training.
As I said earlier, we had plans – but God had other plans.
With the news of the virus, restrictions came to our island. Our one flight, four days a week, was suspended. Our ferries were off limits to everyone but essential travelers. Schools were mandatorily closed as well as churches and all public meetings. Most stores were closed. Only one person per household was allowed to leave their house. No one over 60 was allowed to go to the market. Later only 10 people at a time were allowed to leave the subdivision to get essentials. Our village is probably about 1500 people. In summary, no school, no camp, no conference, no church, and no building project was allowed. Lorrie and I were officially "retired."
Then the US Embassy posted the following notice, "…U.S. citizens who wish to return to the United States should make commercial arrangements as soon as possible unless they are prepared to remain abroad for an indefinite period…."
We decided God was saying to us, "It is time to return to Alaska." Lorrie contacted some of her friends and governmental leaders. With help from the Department of Tourism, we were able to get a barangay (subdivision) clearance to leave, medical clearances for Lorrie and I, permission from a community liaison we knew, a ferry pass and a DOT (Department of Transportation) approved vehicle to take us to the ferry and another one to take us to Manila.
On the way to Manila, we were stopped many times by police or military personal checking our traveling papers and our temperature. We thankfully made it safely to our home in Fairbanks in less than 60 hours!
On a sad but joyful note, after arriving in Alaska, Lorrie's brother called and said that their mother was dying. Lorrie was able to fly to Oregon that night but unfortunately, Connie died before she arrived. We are naturally sad by her passing, but thankful the Lord arranged for us to be back in the States. Connie was almost 89 years old and desired to be with her husband Gordon and with the Lord. She has successfully finished her race. She was indeed a blessing to us and to many others.
We love you and are thankful for the many that regularly pray for the ministry and for us personally!
Nels, Lorrie, and Amy